Big IQ Kids
is an online learning program for grades K-8. Lessons cover math, spelling, vocabulary and US geography. There are free and premium program options. We received a
premium membership
for review, so keep that in mind.
Some features
will be different if you choose to try the free option.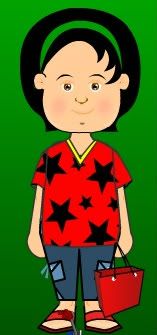 AJ7 works at mostly a 2nd grade level, and she really enjoyed this website. In fact, she enjoyed it so much that she bugged me more than a little about getting a turn to play while I was working on this review!
If asked what her favorite things about this site are, she would say her virtual buddy (photo left) and the games. By doing her lessons (10-15 minutes), she was able to earn virtual game coins. Students may redeem them at any time. Most games "cost" one virtual coin.
Big IQ Kids is completely online, so there is nothing to download. Students can access the site anytime and anywhere internet is available. Parent reports are also available. I received one via email each time AJ7 completed a lesson.
About the actual subjects:
Math
can be customized to practice/review wherever your child is, even if it is above or below grade level. The math program is not an instruction program, only review. AJ7 reviewed her math facts with no complaints.
Spelling and Vocabulary
can also be customized to whatever your child is learning in the classroom or homeschool. A 40,000 word dictionary makes it easy. OR you could choose to follow the 40 pre-loaded lessons. We used the pre-loaded lessons.
US States
teaches state locations, spelling, capitals, abbreviations and facts about each state. Students may take a "State Master exam" that will award them a State Master Certificate if they score 100%. We enjoy geography here at our house, so this was a really fun subject for AJ7!
NEGATIVES: (1)Getting set up was not as easy as I thought it should be. In my opinion, the pages are TOO BUSY! There is just too much stuff on any one page. However, my child did not seem bothered by that fact.
(2)We thought it was a little silly that the spelling words she was being asked to spell were written at the top of the page.
(3) The electronic voices of the tutors was a bit irritating to me. AJ7 did not seem to notice.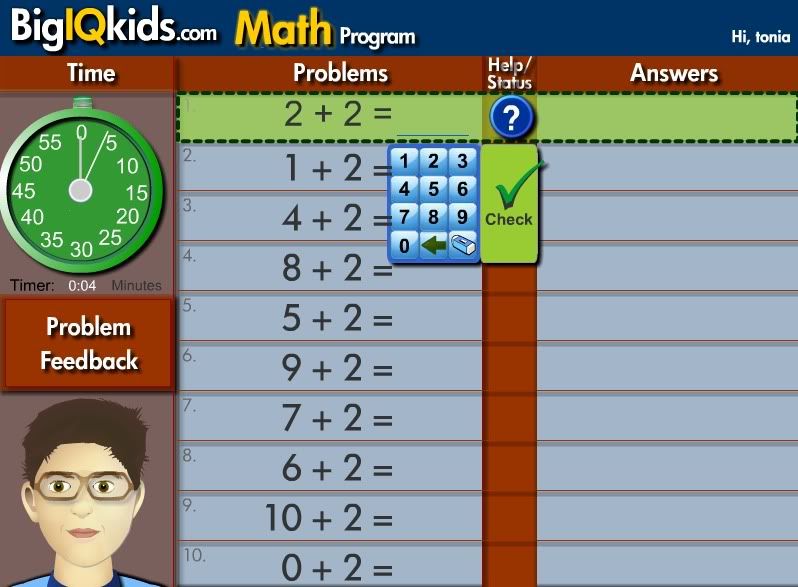 POSITIVES: (1)My 7 year old practiced her math facts with NO arguments! This is something she normally hates.
(3) I received email reports each time my child completed a lesson.
(4) Students are not allowed to progress to the next lesson until mastery is achieved.
(5) Spelling and vocabulary lists can be customized to what we're learning in our homeschool.
(6) There is some FREE SAT vocabulary prep stuff available, which really interests me
since I also have a high school student.
(7) My kids (including the 14 yr old) really enjoyed it!
As a supplement, I think this website is great! I think it would work great for review or "tutoring" for public school kids as well. If you're interested in giving Big IQ Kids a try, try their
FREE options first
to see how you and your student like it. There are lots of them! There is also a seven day free trial for the premium program.
You can read other opinions about this website at the
TOS Crew Blog
.
We received a premium subscription to Big IQ Kids in exchange for an honest review. The opinions stated here are my own.
Labels: games, homeschool, homeschool crew, TOS