What exactly is
Ooka Island
? It is a fun new online game to help your 3-7 year olds learn to read!
Ooka Island
games make learning fun. Using the
Ooka Method
, students begin with letter sounds and through interactive games, they learn to combine those sounds to form words. Before you know it, students are reading e-books from the Popcorn Library. The library consists of 85 books that are unlocked one book at a time as students progress through the game-like lessons.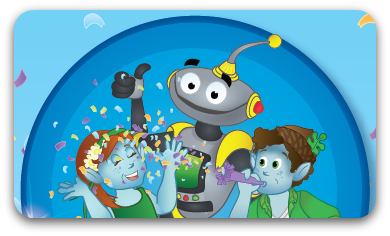 As with other computer games, the girls' favorite part was building their avatar. I mean, what girl DOESN'T like playing dress-up? Even if it IS virtual dress-up, that is always their favorite part. Beyond that, they did enjoy the games. I think the 3-D graphics are top-notch. Completed lessons are rewarded with 8 minutes of "free play". During free play, the girls most often chose Pencil Playground where they could customize their tree house (they really enjoy virtual decorating) and play with Ooka elves. They could have chosen any number of games on the "island", but this was their favorite.
Considering we don't spend a lot of time on computer games (only 1-2 hours per week), I plan to continue to use this as a supplement to our daily phonics lessons. I am sure that if I had the girls use it on a daily basis, it would do a fine job of teaching them to read (AC5) and of improving reading skills and comprehension (AJ8). The only negative I found is that this program is a pretty large download. It took SEVERAL hours to download, but I believe it was well worth the wait.
Right now,
Ooka Island
is offering a 30% discount for new subscriptions. There is also a free trial available.

The regular pricing structure is as follows:
For more opinions of Ooka Island Adventure, see what my fellow homeschool bloggers had to say about it at
The Old Schoolhouse blog
.

Disclaimer: We received a six-month subscription to Ooka Island in exchange for an honest review. No other compensation has been or will be received. All opinions are my own.