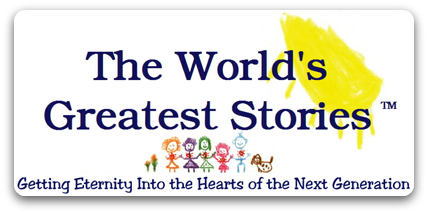 From the website:
The World's Greatest Stories are an award-winning series of Bible stories that make the actual words of Scripture leap off the page into the hearts of children of all ages. Children love the stories and listen to them over and over again, often memorizing the entire CD.



Our family had the privilege of reviewing The World's Greatest Stories Volume 1: The Prophets recently. We chose the NIV translation, because I thought it would be easier for the younger kids to understand when listening. We listened to this in the van, and the girls listened to it during rest time.




George W. Sarris lends his talented voice to these Bible stories that are shared straight from God's Word. Stories included are The Blazing Furnace, The Handwriting on the Wall, Daniel in the Lion's Den, Elijah and the Prophets of Baal and The Prophecy of Jonah.




In my opinion, using this CD is a natural way to plants seeds of faith in the heart of our children. Romans 10:17 says, "Consequently,

faith comes

from

hearing

the message, and the message is heard through the word about Christ."

If you would like to add one of these CDs (6 volumes available) to your collection, they can be purchased

here

for $7.95. You can read reviews from other Crew members

here

.

Disclaimer: I received this product FREE in exchange for an honest review. No other compensation has been or will be received. All opinions are our own.