What is it?
Reading Eggs is an interactive, online phonics learning system for ages 3-7. From the website:

The program has been developed by a highly experienced team of educational teachers, writers and developers. The Reading Eggs program focuses on a core reading curriculum of phonics and sight words using skills and strategies essential for sustained reading success. It completely supports what children learn at school and will help to improve your child's results at school.

How it works--


Our Experience--
I signed up my 5-year-old for the extended free trial period given to us to review for The Old Schoolhouse Review Crew; and since Reading Eggs gives a two-week free trial to everyone, I also signed up my 8-year-old for extra practice. I began by letting each of them take the placement test. I was glad to know that I didn't have to figure out where to start each of them.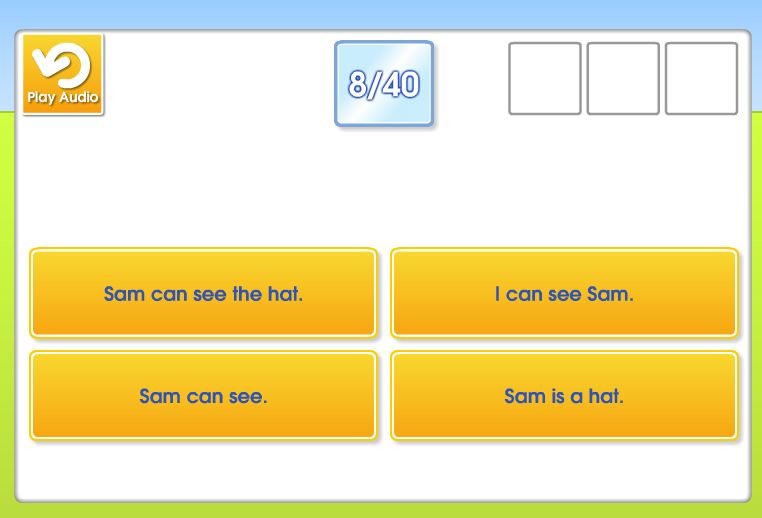 Placement Test Sample

Naturally, the girls were started on different lessons in the game. Each has been able to work at her own pace, and they have been thrilled with their progress. I have been pleased with their progress as well. I am even more pleased that they are excited to do their phonics practice every day. I only had to introduce the very first lesson and show the girls how it worked. After that, they were able to complete all their lessons on their own.



My favorite feature of this program is the personal dashboard record for each student. This dashboard allows me to see at a glance what progress the girls have made. I can see what lessons they've completed, what books they've read, as well as how many phonics sounds and sight words they have mastered. Also, upon the completion of an entire map (about 10 lessons), students are required to complete a review quiz. The results of that quiz are then emailed to the parent.

The girls have enjoyed it so well and made such progress that we are considering purchasing a longer subscription once the free trial runs out.
How To Get It--

Reading Eggs offers a 2-week free trial on the website.

Subscription options are as follows:
12-months: $75
6-months: $49.95
Monthly: $9.95
*There is also a 50% discount for each additional student enrolled in a family.*

Books packs are available to purchase to supplement the online lessons, but we have not found them necessary for success with this program. For your older learners (7-13), Reading Eggspress is available to increase reading comprehension and spelling skills in the same fun and interactive style as Reading Eggs.
If you'd like to read more reviews about this product, visit The Old Schoolhouse blog.


*Disclaimer: My family received a free subscription for this product in exchange for an honest review. No other compensation has been or will be received.*

Labels: games, homeschool, homeschool crew, preschool, TOS