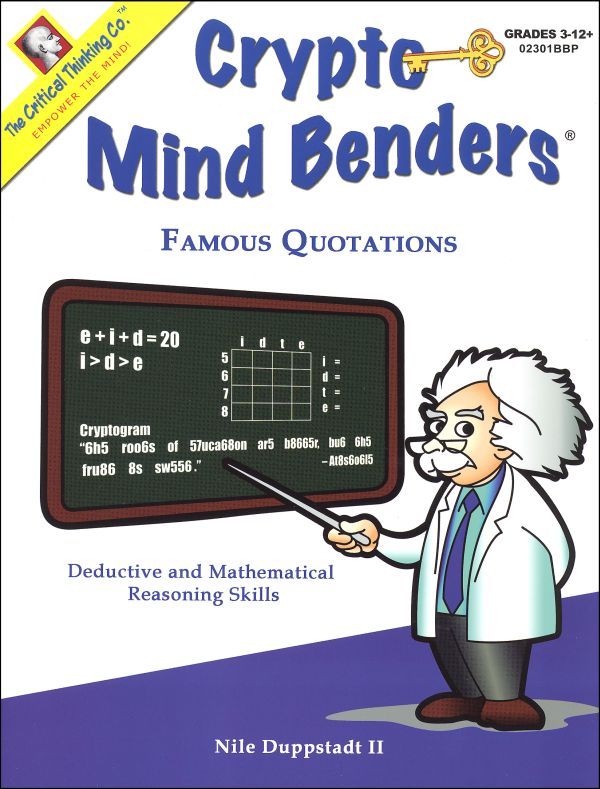 From the website:
Crypto Mind Benders® develop mathematical reasoning and critical thinking skills that are vital to achieving academic and lifelong success. They are great for introducing students to encryption, algebraic thinking, and basic computer programming operations.
By using logic and mathematical reasoning, students "break the code" that enables them to read a famous quotation. This book is geared toward 3-12+, so it was a bit too advanced for our 2nd grader. However, JC15, Hubby & I all enjoyed the puzzles. It was fun to see who could figure them out the fastest. JC15 is a history-buff that tolerates math. Even though he's pretty good at it, he doesn't really enjoy it. I thought this was a great way to combine math and history. Quotes were from Aristotle, Thomas Jefferson, Voltaire and others creating sparks of interest in my history buff.
The Critical Thinking Company has won more than 100 national awards for their superior learning products. Their product line of books and software cover all the major subjects: reading, writing, math, history and science. Average prices are $8.99-$24.99, although bundled learning packages are obviously more. Crypto Mind Benders: Famous Quotations is $10.99. The book contains 30 puzzles and an answer key.
Our goal in homeschooling has always been to teach our children to think, so I appreciate this quote from the Critical Thinking Company founder...
"If we teach children everything we know, their knowledge is limited to ours. If we teach children to think, their knowledge is limitless." - Michael Baker, President
Crew members reviewed a total of four different products from the Critical Thinking Company. You can read more about them
here
.

Disclaimer: As members of The Old Schoolhouse Review crew, we received a free copy of this product in exchange for an honest review. All opinions are our own.
Labels: homeschool, homeschool crew, TOS, TOS crew